Jules was founded in 2010 in the Netherlands by 5 people, each and all of them coming from a strong background in both the software and energy sector.
One of our founders, Rob van Leeuwen, was previously also the founder of the company named Powerhouse (established in 2007) in the Netherlands. Today Powerhouse is owned by the energy supplier Essent. Powerhouse was the first company in the world to offer a fully internet-based power and gas trading platform. It targeted business-end-customers to allow for buying and selling energy. Much like the wholesale energy market which is known for continuously fluctuating prices.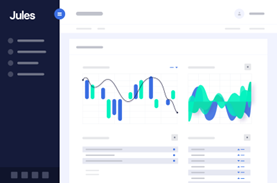 In its early days this innovative and new digital ecosystem ('energy trading platform') was offered to commercial greenhouse growers in The Netherlands with great success and encountered a huge percentage of adoption (approx. 95%). The energy trading platform appeared to be 'a no-brainer' to be embraced by glasshouse growers. This internet-based solution allowed for smart buying and selling of energy (power and gas) both on short term spot and long term future markets. The trading platform also provided for functionalities to dispatch the traded energy positions automatically and physically.
For the energy intensive greenhouse sector, this eco-system proved to be a true game changer. A great help to growers to control truly lower their energy cost, since it allowed them minute by minute to financially benefit from low and/or high energy prices. Due to the high level of automation offered it took the users of the system very little time to operate the platform.
The success of the platform in the greenhouse sector in the Netherlands spurred the founders of Jules to bundle their experience, expertise and skills to offer digital solutions for retail energy suppliers serving business customers in Europe and North America.. The founders were convinced they possessed an ideal set of skills that could translate into software tools and solutions that would offer new end-customers' energy contract offerings and highly efficient and robust digital processes for profitable deployment.
So, Jules was founded with the aim to team-up with energy suppliers as their prime customer target group both inside and outside of The Netherlands. The product: a white labelled and bespoke digital platform to allow the energy supplier to offer and execute flexible energy contracts for the commodities power and gas. Mimic the energy wholesale mechanics in a robust and secure energy retail environment with a high level of end-customer self service capabilities.
Moreover, the founders of Jules had the strong belief their offered services contributed strongly to the multifaceted Energy Transition.